With our roof washing services, you can have the best-looking roof in the neighborhood.
You may already know how important it is to take care of your roof and get it the repairs and regular maintenance it needs to perform its job well. However, as important as it is to have a functional roof that protects your home from the weather, you shouldn't neglect the aesthetic aspect of your roof care. If you have noticed ugly dark streaks or other unsightly stains on your roof, you don't have to put up with it. Instead, give us a call at Pollywog Pressure Washing and we will provide you with the roof washing services you deserve.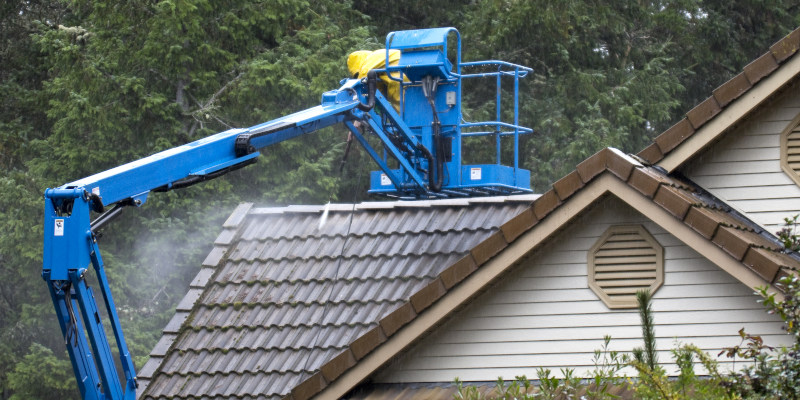 The dark streaks and stains on your roof are not merely dirt and buildup; they are actually algae, mold, mildew, and other organic materials. It's true that these substances affect your roof's appearance, but they can also cause your roofing materials to deteriorate earlier, so it's important to remove them. The best way to remove them is through soft washing.
Soft washing is a gentle alternative to pressure washing, and we use it because your roof requires extra care. When we soft wash your roof, we will apply a soap solution made of a surfactant and sodium hypochlorite to kill all the algae, mold, mildew, bacteria, and other organic materials on your roof before rinsing the area with low-pressure water. This roof washing method is highly effective and long lasting, so you won't have to deal with those ugly streaks and stains for long.
If you want to have the best-looking roof in your Raleigh, North Carolina neighborhood, give us a call and schedule our roof washing service.
---
At Pollywog Pressure Washing, we offer roof washing services in Durham, Chapel Hill, Raleigh, Cary, Hillsborough, Wake Forest, Morrisville, Apex, and Holly Springs, North Carolina.