We can soft wash your house with excellent results like you've never seen before.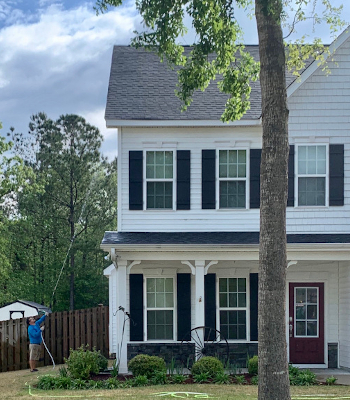 You likely put a lot of effort into cleaning your house on the inside, so doesn't the outside deserve the same level of care? A house covered in dirt and grime is an eyesore, but when you call us at Pollywog Pressure Washing for our house washing services, we'll provide you with results that are like night and day compared to your house's previous state. Once we have done our job, you can be proud of your Raleigh, North Carolina home again and live with the knowledge that the exterior is free of ugly and harmful contaminants.
Although our specialty is pressure washing, we also offer soft washing to clean your home. Soft washing is a gentler house washing method in which we use low-pressure water and a soap solution made of a surfactant and sodium hypochlorite to remove contaminants. Soft washing not only washes away dirt and grime, but it also kills the algae, mold, mildew, bacteria, insect nests, and other organic substances that might be staining your home, so your house will stay clean longer.
When we come to your home to provide house washing, we will first assess your home and make sure it is safe to wash before we cover and tape any parts that shouldn't get wet, such as doorbells and outlets. Next, we will water your outdoor plants, so their roots will be saturated, and they won't soak up our soap solution. We will apply our solution to your home for 10 to 15 minutes, allowing it to kill the contaminants before we rinse everything, remove the tape, and leave you with a squeaky-clean house.
Give us a call today to schedule our house washing services or ask us any questions you may have!
FAQs About House Washing
Whether you have gotten house washing services before or not, we understand that you may have some questions you want to ask us. We are happy to oblige. But before you ask, we encourage you to look over the answers to some of our frequently asked questions below. We think you will find them to be very helpful. Of course, you are welcome to reach out to us if you need clarification or have other questions that are not answered here.
Hidden
How do I know whether my house needs pressure washing or soft washing?
You don't have to make that call on your own. We have experience providing house washing for many different people who have different kinds of homes. As a result, we can tell when pressure washing could be too harsh or soft washing could be insufficient for your house. We will recommend the best solution accordingly.
Is the roof included in your house washing service?
No, roof washing is a separate service because it requires extra care and the roof is often the most prone to algae growth and other contaminants.
How long can I expect my house to remain clean?
This answer depends on several things, such as which service you choose and environmental factors. However, we do offer a six-month warranty on algae returning.
Do you offer any guarantees?
Yes, we offer a hassle-free satisfaction guarantee. You don't pay unless you're happy with the house washing.
Do you offer any discounts?
We offer a 10% discount for returning customers, first responders, teachers, and military.