We offer thorough driveway pressure washing services to keep your driveway in excellent condition.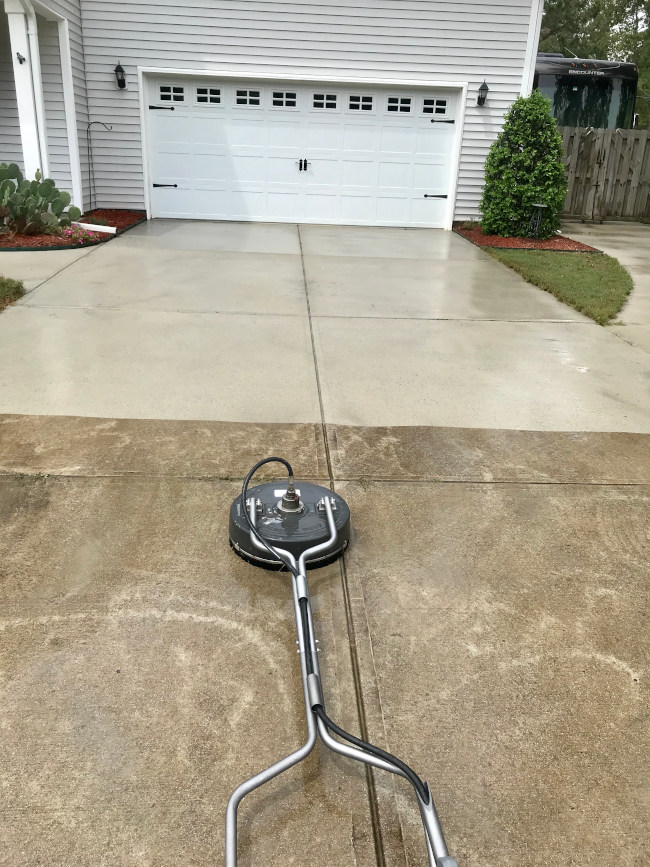 In order to keep anything in good condition, you will need to keep it clean, and this is true of everything from clothes to buildings. It is also true of exterior structures such as driveways—while you might think a concrete driveway is tough enough to not need maintenance, the truth is it does require some care and upkeep. Our team at Pollywog Pressure Washing offers driveway pressure washing services to help you maintain your driveway and ensure it remains in excellent long-term condition.
Allowing dirt to build up on a driveway is not good for it, as the dirt particles will abrade the concrete over time, causing it to wear out faster. In addition, if there's enough dirt on top, seeds may take root and accelerate the erosion process as the roots of weeds widen cracks in the concrete. Our driveway pressure washing services will remove all traces of dirt and grime to halt this process in its tracks.
In addition, we also offer soft washing services to get rid of contaminants, such as algae or mildew, that may be present, preventing them from eating away at your driveway and from attracting more dirt. To learn more about the benefits of our driveway cleaning process, simply give us a call.
Our team is proud to serve the community in Raleigh, North Carolina, and we want to help you keep your driveway in the best possible condition. If you are interested in our driveway pressure washing services, just give us a call to find out how to get started.
---
At Pollywog Pressure Washing, we offer driveway pressure washing services in Durham, Chapel Hill, Raleigh, Cary, Hillsborough, Wake Forest, Morrisville, Apex, and Holly Springs, North Carolina.