Our pressure washing services are among the best in the industry, utilizing low pressure levels and a specialized product.
Pressure washing is an effective cleaning method that can be used for a variety of purposes. However, it may surprise you to know that not all pressure washing services are the same. Although the results might appear similar at first glance, the method used for cleaning the surface will impact how soon the contaminants return.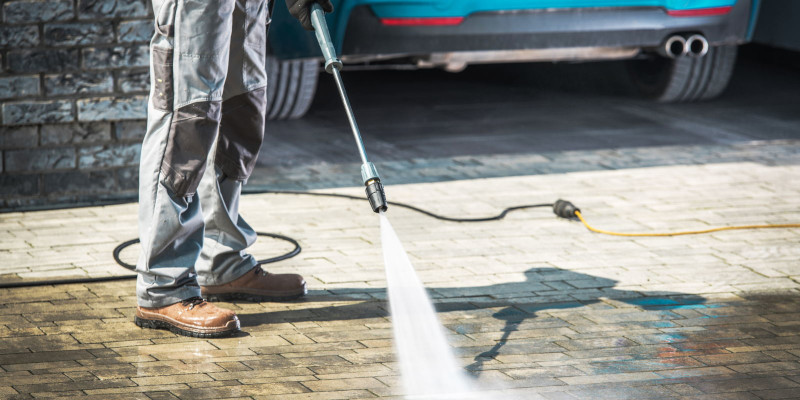 At Pollywog Pressure Washing, we evaluate each project to make sure that we recommend the best process, equipment and cleaning solutions for your specific surface. Typically, this means that we use soft washing, as it is incredibly effective at removing contaminants and keeping them away for a longer period. Depending on the surface, we may opt to instead use our pressure washing process. Either way, our services are among the best in the industry, utilizing customized pressure levels and a specialized product.
If you're struggling to maintain the exterior of your home or business, you're not alone. There are many aspects of the structure that are difficult to keep clean on your own. The windows, roof, and exterior walls can get dirty and grimy, and the contaminants that build up on these surfaces can actually cause significant damage to the materials if they're not properly cleaned. Algae and mold growth are particularly damaging when they grow on the exterior walls and roof. The walkways, driveways, and parking areas are also susceptible to damage from these contaminants, and their presence can create a slipping hazard for those who use the pathways.
Our experienced technicians can perform our pressure washing services on all of these surfaces to eliminate concerning contaminants. We stand behind our work with a six-month warranty against the return of algae growth and a hassle-free satisfaction guarantee. Contact us to request a no-obligation estimate.
FAQs About Pressure Washing
Pressure washing is an excellent service when your residential or commercial property's exterior surfaces are covered in dirt and grime. Although you may be familiar with pressure washing, as many people are, we want to ensure that you have access to as much information as possible. That's why we have answered some of our frequently asked questions about pressure washing below. If you have further questions after reading through these answers, don't hesitate to contact us today.
Hidden
Can pressure washing damage my home or building?
Many people are skeptical about pressure washing, not because they doubt it will work but because they fear that it will damage their property. While damage due to pressure washing is not unheard of with some companies, you won't have to worry about it with us. We have been trained to use pressure washing equipment effectively, and we'll also use our good judgment to recommend a gentler cleaning method if we think our pressure washing services may be too harsh for the job you have in mind, such as roof or siding cleaning.
What are some benefits of pressure washing?
In addition to being an affordable and quick solution when you need to clean your home or building, pressure washing is highly effective. Our pressure washing services are best suited to jobs in which you need to remove stubborn contaminants from hard and porous surfaces like concrete driveways.
Do you offer any discounts?
Yes, we are proud to offer a 10% discount to first responders, teachers, military, and returning customers.
Are you insured?
Yes, we have the proper insurance to safely provide you with pressure washing services.
---
At Pollywog Pressure Washing, we offer pressure washing services in Durham, Chapel Hill, Raleigh, Cary, Hillsborough, Wake Forest, Morrisville, Apex, and Holly Springs, North Carolina.
Similar Services We Offer: