We offer roof cleaning services for both residential and commercial properties.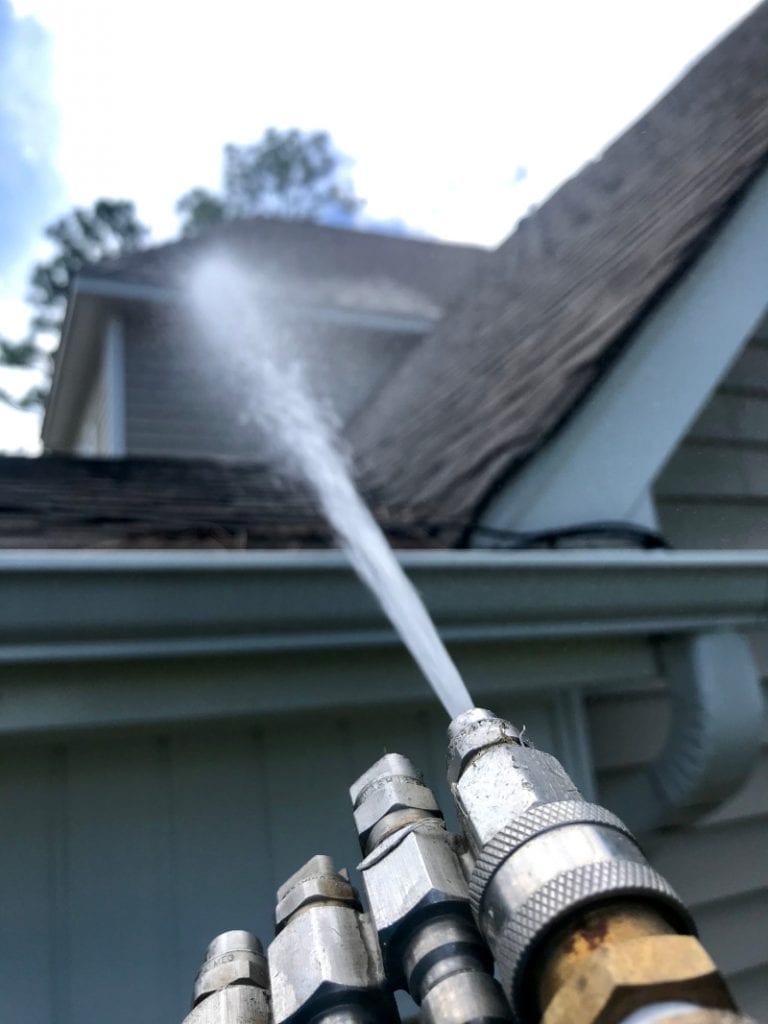 A dirty roof doesn't matter much, right? Wrong! Not only can accumulated grime, dirt, and algae affect the curb appeal of your Durham, North Carolina home, but it can lead to premature failure of the roofing material. The same holds true for commercial roofing. At Pollywog Pressure Washing, we utilize soft washing that provides great results without danger of damaging your roofing.
We can schedule your roof cleaning services on a schedule that makes sense for your situation. Our system is more effective than most, so it won't need to be repeated as often as other methods. There are several factors that can create a situation where roof cleaning services are needed more often, but we'll provide you with any pertinent information and let you know if there is a situation than can be rectified to protect your roof and reduce how often you need it cleaned.
Another component of our roof cleaning services is our gutter cleaning service. You might not be able to see a dirty gutter and blocked downspout from the ground, but the potential for water damage and roof damage makes it important to keep up with this critical maintenance task. We thoroughly clean and rinse the gutters and flush out each downspout so that they function as they should to divert water safely away from the foundation.
If you would like to know more about our roof cleaning services for residential or commercial properties, don't hesitate to reach out to us. We look forward to helping you have a clean home or business and protect your roof in the process.
FAQs About Roof Cleaning Services
Roof cleaning services can go far in improving your roof's appearance and increasing its longevity. However, in our experience, many people do not know very much about roof cleaning. Our team wants to provide you with more information so you will know what to expect from our services. You can learn more from the answers to our frequently asked questions below or by giving us a call to ask your own questions.
Hidden
What is soft washing?
Soft washing is a gentle alternative to pressure washing. Rather than using highly pressurized water to blast contaminants off your roof, we apply a cleaning solution that treats and kills the contaminants before rinsing off your roof entirely. As a result, your roofing materials, which can be very delicate, will be safe from damage and remain free of contaminants for a longer period of time compared to other methods.
What is your cleaning solution made of?
Our soap solution is made of a surfactant and sodium hypochlorite. You can think of it as similar to water, Dawn soap, and a splash of bleach.
Will your soap solution harm my plants?
No, we take precautions to protect your plants before we begin our roof cleaning services. We'll start by pre-wetting all vegetation in the vicinity. This protects your plants by soaking their roots in fresh water so they won't soak up our solution. When we're done cleaning your roof, we will rinse off all the plants again for good measure.
Do you offer a guarantee on your roof cleaning services?
Yes, we offer a satisfaction guarantee and a six-month warranty on algae returning to your roof.
---
At Pollywog Pressure Washing, we offer roof cleaning services in Durham, Chapel Hill, Raleigh, Cary, Hillsborough, Wake Forest, Morrisville, Apex, and Holly Springs, North Carolina.