With our exterior house washing process, your home will be the cleanest in the neighborhood.
Nobody likes to be the black sheep. No, we're not talking about being the slighted person in your family. We're talking about being the house on the block that the neighbors look at with disdain because it is in dire need of exterior house washing. If you don't want to be the black sheep of your Durham, North Carolina neighborhood, reach out to us at Pollywog Pressure Washing.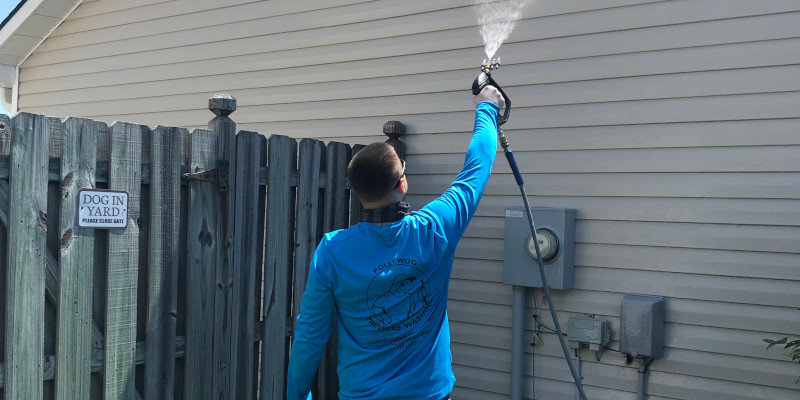 We use a specialized soft washing system to safely clean your home. Our system uses low pressure with specialized solutions to safely remove mildew, bacteria, algae, and other organic stains from the roof, siding, and other building exteriors.
We begin with a visual inspection of your home to ensure it is safe to wash. Following the visual inspection, we tape and bag sensitive components such as outlets, Ring doorbells, cameras, etc. Once completed, we then start the exterior house washing process. It begins with pre-wetting all vegetation, which helps protect plants by soaking their roots in fresh water. We then apply our soap solution to the home with our advanced soft washing system. We leave the soap on the home for five to ten minutes, giving it time to activate and begin removing mildew, organic growth, spiderwebs, and algae. During that time, we rinse off nearby vegetation again. Finally, we complete the exterior house washing process by rinsing all of the soap off the house. After a final visual inspection is complete, we remove the tape and protective bagging, and the job is complete.
If you would like to know more about our exterior house washing process or you would like a no-obligation, free estimate, don't hesitate to reach out to us.
---
At Pollywog Pressure Washing, we offer exterior house washing services in Durham, Chapel Hill, Raleigh, Cary, Hillsborough, Wake Forest, Morrisville, Apex, and Holly Springs, North Carolina.
Similar Services We Offer: