Our professional roof cleaning services will protect your structure while ensuring that it always looks appealing.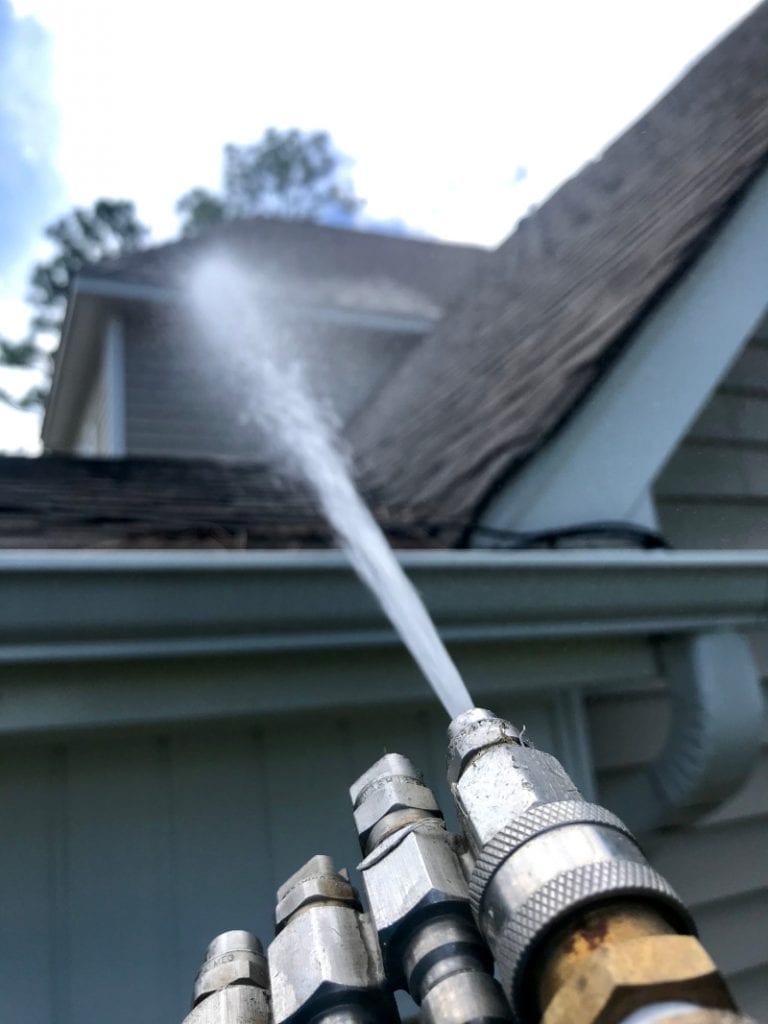 The roof on a home or business plays an important role in protecting the interior from changing climate conditions. When it rains or snows, the roof prevents the moisture from seeping into your living space. It also maintains the interior comfort level and energy efficiency of the space, preventing heated and cooled air from escaping.
The appearance of the roof also impacts the curb appeal of the structure. Dark patches, which are often the result of mold and algae growth, can make the building look less appealing. Unfortunately, the presence of these and other natural contaminants is also concerning, as they can cause the roofing materials to deteriorate.
At Pollywog Pressure Washing, we can take care of your structure by performing regular roof cleaning services. When performing roof cleaning services, we use a method called soft washing that is incredibly effective. It's different from traditional pressure washing in that it uses lower pressure and a specialized cleaning solution that removes all types of contaminants without causing any damage. Too much pressure applied to the roof can damage the materials used to construct it, which is why we utilize this cleaning method for our roof cleaning services.
With years of experience, our technicians can tackle all types of exterior cleaning needs. We're available to take care of your home or business, whether we're performing a roof cleaning service or removing algae and mold growth from your driveway. Our professional roof cleaning services will protect your structure while ensuring that it always looks appealing. If you're in the Chapel Hill, North Carolina area, contact us to request a quote.
FAQs About Our Roof Cleaning Services
Your roof is among the most important and expensive parts of your home or business, so we understand if you have questions about our roof cleaning services before you commit. Many of our other customers ask us questions about our roof cleaning services too, so we have compiled some of these questions and their answers below. If you still have other questions that are not answered below, feel free to reach out to us.
What are some of the advantages of soft washing my roof?
Soft washing is great for your roof, not just because it is gentle, but also because it provides long-lasting, effective results. Our soap solution addresses more than just dirt; it also kills and breaks down contaminants like mold, mildew, algae, and lichens. These contaminants are usually quick to return when they are only washed away with water, but soft washing ensures that your roof will stay contaminant-free much longer than it would with other methods.
What is in your soap solution?
Our solution consists of a surfactant and sodium hypochlorite. You can think of it as a splash of bleach, Dawn dish soap, and water.
Will your roof cleaning services harm my plants?
No, our roof cleaning services are safe because we take the time to protect your plants. Before we begin cleaning your roof, we will pre-wet all your plants. Soaking their roots in fresh water prevents them from soaking up our soap solution. We will also rinse off your plants once we have finished soft washing your roof.
---
At Pollywog Pressure Washing, we offer roof cleaning services in Durham, Chapel Hill, Raleigh, Cary, Hillsborough, Wake Forest, Morrisville, Apex, and Holly Springs, North Carolina.