Our team is here to make maintaining the exterior surfaces of your commercial building as stress-free and easy as possible.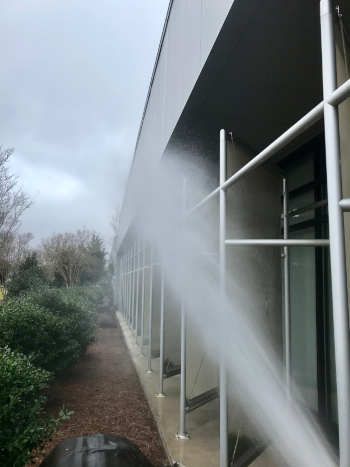 At Pollywog Pressure Washing, we know that owning and maintaining a commercial building involves a lot of work, and we're here to take at least a portion of that off your hands. We offer professional exterior commercial cleaning services for those in the Raleigh, North Carolina area to help make maintaining your commercial space a hassle-free process. Our trained technicians can handle everything from the roof to the parking lot and have all the right equipment to tackle each area safely.
In addition to ensuring that your building looks great after we're done, our exterior commercial cleaning services can help preserve the lifespan of many of its external features. For example, regular cleaning helps prevent mold, algae, and mildew growth. These contaminants are known to cause issues with roofing, siding, and paint that make you have to repair or replace those areas more often, so addressing them when they grow on your building can make a huge difference in the long term.
We use proven methods that break down contaminants at their root, completely removing the mature growth as well as any lingering spores, affording you a cleaner surface for longer than many traditional cleaning methods.
Our exterior commercial cleaning services consist of two main cleaning techniques: pressure washing and soft washing. When our technicians arrive, they will evaluate the surface you called us to care for and determine which method best suits that particular material or structure. This helps ensure you get the most effective clean without having any damage done to your property.
In general, more durable surfaces like concrete are safe to pressure wash, while soft washing is better for things like siding, roofing, and fencing because it doesn't run the risk of damaging them with high-pressure water.
We stand by our work, offering a hassle-free guarantee, as well as a six-month warranty on algae returning to a surface we've treated. If you're not completely satisfied with our work, we'll do all we can to make it right. Contact us today to learn more or schedule your next exterior commercial cleaning service.
---
At Pollywog Pressure Washing, we offer exterior commercial cleaning services in Durham, Chapel Hill, Raleigh, Cary, Hillsborough, Wake Forest, Morrisville, Apex, and Holly Springs, North Carolina.