Our team offers thorough parking lot cleaning services to help you keep your lot in great condition.
Here at Pollywog Pressure Washing, we understand that running a business comes with many challenges. For example, it can be difficult to keep up with facility maintenance because there are so many tasks to keep track of. In particular, we find that many business owners tend to neglect their parking lots, which will cause the lot to wear out a lot faster than it would if it were properly maintained. If you want to keep your parking lot in great long-term condition, our team can help. We offer expert parking lot cleaning services that will remove dirt and grime and keep your parking lot in excellent shape.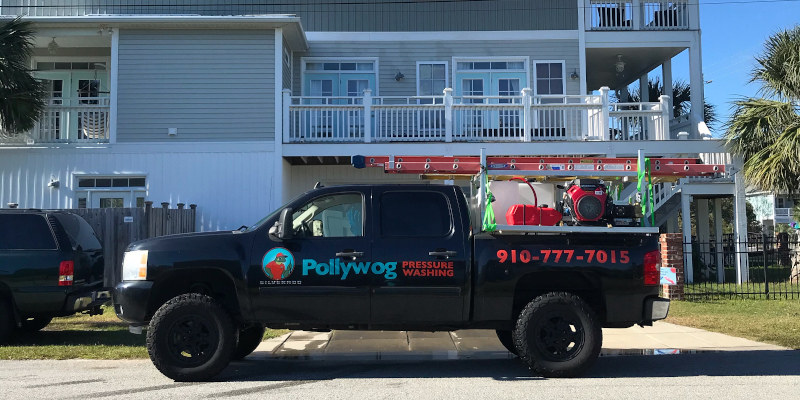 In our experience, many people wonder what the point of cleaning a parking lot is—aren't all parking lots dirty? However, our parking lot cleaning service offers several benefits. First, it helps prevent wear and tear on the asphalt, which makes the lot last longer and helps you avoid having to replace it or get the lines repainted for as long as possible.
Second, our cleaning services don't just remove dirt particles, but also contaminants such as algae, which can eat into the surface of the parking lot and damage it. Algae will also make the surface of your parking lot slippery, which will increase the risk of slip accidents, so our parking lot cleaning services help to keep your lot and everyone who uses it safer.
We are proud to serve the community here in Chapel Hill, North Carolina, and we want to help you keep every part of your business facility in great condition, including the parking lot. If your parking lot is looking the worse for the wear, we encourage you to give us a call to schedule an appointment for parking lot cleaning services.
---
At Pollywog Pressure Washing, we offer parking lot cleaning services in Durham, Chapel Hill, Raleigh, Cary, Hillsborough, Wake Forest, Morrisville, Apex, and Holly Springs, North Carolina.