Our team offers thorough high bay cleaning services to help you keep your facility safe.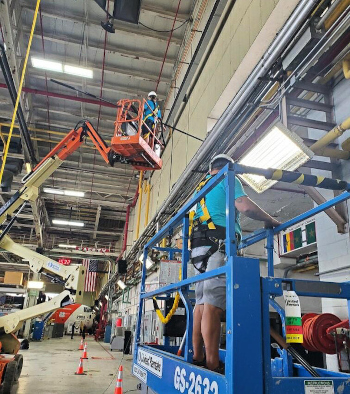 A key part of running any business is to keep your facilities clean. Not only does regular cleaning help keep your employees and customers healthy, as it prevents the spread of germs through your facility, but it will also keep the facilities themselves in better long-term condition. On top of that, some types of cleaning help to reduce other safety risks—for example, high bay cleaning services help reduce the risk of fires. Our team at Pollywog Pressure Washing understands that your business is important to you, and we offer high bay cleaning services to help you keep your operation running smoothly and safely.
For those who are unfamiliar with the term, high bay cleaning refers to the process of removing dust, dirt, and grime from the parts of your facility that aren't within easy reach from the ground—the rafters, the tops of equipment and machinery, etc. It is necessary to clean these areas because dust and other contaminants will collect there over time, and that dust is highly flammable and combustible, which means it creates a serious fire hazard. If you are looking for a team you can trust to handle your high bay cleaning needs for you, simply give us a call to get our experts on the job. We can assess your needs and set you up on a recurring cleaning schedule so that you never have to worry about leaving it too long.
Our team is proud to serve local businesses here in the Chapel Hill, North Carolina community, and we want to help you take the best care of your facility. If you are interested in our high bay cleaning services, just give us a call to schedule an appointment.
---
At Pollywog Pressure Washing, we offer high bay cleaning services in Durham, Chapel Hill, Raleigh, Cary, Hillsborough, Wake Forest, Morrisville, Apex, and Holly Springs, North Carolina.