We offer expert exterior commercial cleaning services that will make it easier to keep your building in great shape.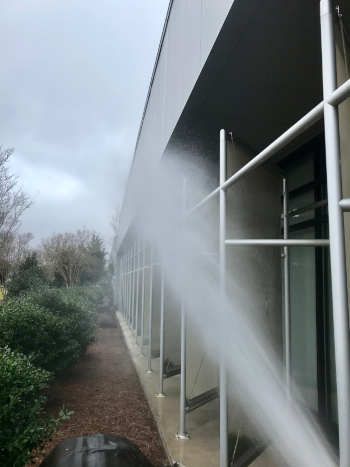 Here at Pollywog Pressure Washing, we understand that you care about your business, and we want to help you do what's best for it. A key part of running any business is maintaining the facilities, and our team offers high-quality exterior commercial cleaning services to help you do just that. Our technicians will thoroughly clean your facility's exterior, removing all dirt, grime, algae, and other contaminants to make your building look its best.
In addition to making your building look great, our exterior commercial cleaning services will also keep it in better long-term condition. A great deal of the grime that collects on exterior surfaces is not just dirt, but algae and other microorganisms, which will eat away at the material over time. If these substances are left to linger on your exterior surfaces, they will wear away the paint, damage the siding, and more, which is why we encourage you to have your building cleaned regularly to get rid of these damaging contaminants.
In other words, our exterior commercial cleaning services will help you avoid having to repaint your building or replace your siding, which means taking care of this one part of building maintenance will allow you to avoid more difficult maintenance tasks down the line.
Our team is proud to serve the Chapel Hill, North Carolina community, and we want to help you keep your business facility in great condition. If you are looking for excellent exterior commercial cleaning services, just give us a call to get our experts on the job.
---
At Pollywog Pressure Washing, we offer exterior commercial cleaning services in Durham, Chapel Hill, Raleigh, Cary, Hillsborough, Wake Forest, Morrisville, Apex, and Holly Springs, North Carolina.